/

Why
Wild studies aims to
safeguard and reactivate
ancestral knowledge as
a generator of meaning
Wild studies aims to safeguard and reactivate ancestral
knowledge and wisdom as a generator of meaning in
a globalised, but superdiverse world. Creating physical
spaces in remote rural area's momentarily under stress
is our core activity.
As architects we are essentially dealing with material culture
and feel the need to activate and invigorate the often intangible
and ineffable elements of local traditions, rather than collecting,
inventorying and exhibiting buildings, styles and objects in an aim
to safeguard the memory of traditional and sustainable ways.
We therefore believe that it is precisely the continuity of a living
tradition that identifies people and creates a sense of belonging.
In 2013 we started our collaboration within a Master program, Interior Architecture, Faculty of Architecture of KULeuven KULeuven, on 'Heritage and Identity'. Together with the students we initiated heritage projects in Flanders with a specific research scope towards the difference between a living tradition and inventoried heritage. The first approach mainly focuses on the intangible cultural heritage perspective, inventorying heritage on the other hand emphasizes a material and architectural safeguarding of things and buildings, which often has lost all meaning for the local culture. Through this preliminary work we concluded that there is an emergent need for professionals to refocus the notion of heritage in a built environment. The sole safeguarding of the material past is not making any sense, if the meaning and thus the living tradition eminent to the material outcome is lost.
We therefore founded this research group, with a clear aim to design spaces, which encourage the transmission of ancestral knowledge, tangible and intangible in non-Western contexts. With transmission we mean: having the knowledge, skills and practices inherited from past generations at the disposal of future generations (Duvelle 2013:10).
 With knowledge we refer to: a knowledge system, which goes beyond mere cultural artifacts, and relates mutually to an existing cosmology.
All over the globe, we see a renewed interest in the traditional, the local, the handcrafted and so on, especially because this tacit knowledge threatens to get lost forever. Globalization, urbanization, tourism, climate change, poverty, natural disasters, migration, conflict, next to new forms of knowledge transfers such as the new media endanger the often vulnerable continuity of traditional ways, and even questions its relevance and legitimacy. Traditions however, are shared memories that are essential carriers of social networks and meaning. They are capable of either uniting or dividing people, of creating a feeling of belonging or xenophobia.
From an architectural perspective our interest in the continuation of the ancestral knowledge is twofold:
1/ We consider a tradition as a treasure-box of knowledge that has been fine-tuned for many generations. It teaches us for instance how to build in a climate-adaptive way and with locally available resources and skills. Or, in more contemporary words: in a sustainable and low-tech way.
2/ Traditions are shared memories that are essential carriers of social networks and meaning. Research has shown that in many -often developing- countries people still live a rather traditional life, which however is under heavy pressure through the drive towards a modern lifestyle. Progression is generally understood as the greatest possible resemblance to the rich West, so people rapidly abandon their traditional way of live. This often leaves them, and especially their children who no longer learn the traditional knowledge that their parents and grandparents possess naturally, with a feeling of alienation.
Building on the expertise that we acquired from our preliminary projects in Belgium, it is our aim to soften the assumed oppositions between the local, traditional, disadvantaged and the globalized, contemporary, prosperous by activating meaningful roles for the traditional in the fast process of modernization and globalization.
We therefore initiated projects -in close collaboration with local partners in the field of education, research and practice- resulting in actual built spaces. We intend these projects to be places of knowledge transfer through hybrid buildings that combine functions such as a community center, dispensary, school, kitchen, dancing hall …
We call them 'wild', 'generous', 'engaging' and of course 'sustainable'.
Let us soften the assumed oppositions between the local, traditional, disadvantaged and the globalized, contemporary, prosperous by activating meaningful roles for the traditional in a sustainable and contemporary architecture."
Wild Studies
/

HOW
As Western architects
and researchers it is
our aim to design
spaces with a particular
set of qualities:
01.
Wild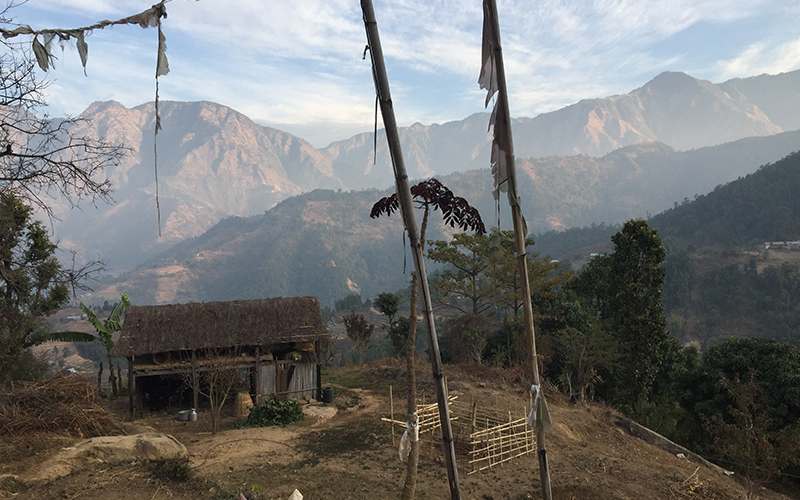 Wild as in untamed, and still holding space for a transmission of the ancient, the ancestral and the traditional knowledge, habits, rituals, arts, … rooted in a specific context and necessity, and therefore alive and authentic.
02.

Generous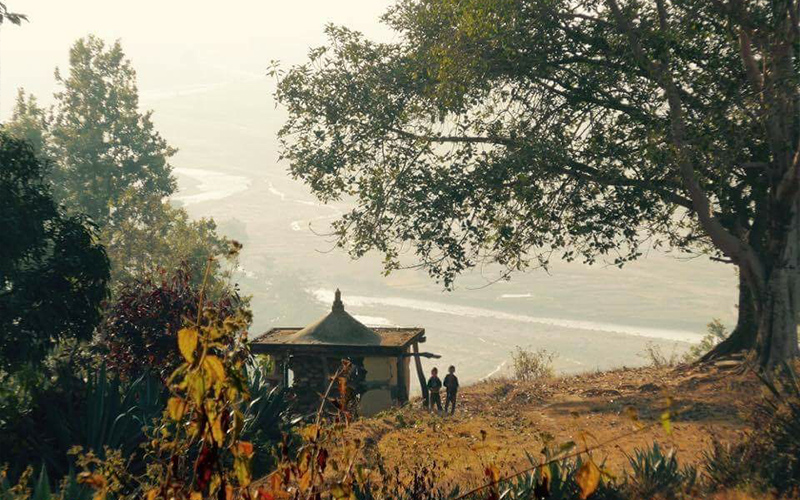 Generous through an approach that is process-based and inclusive, dynamically anticipating to a fast-changing context, with as a main aim to connect people, place, space and time.
03.

Engaging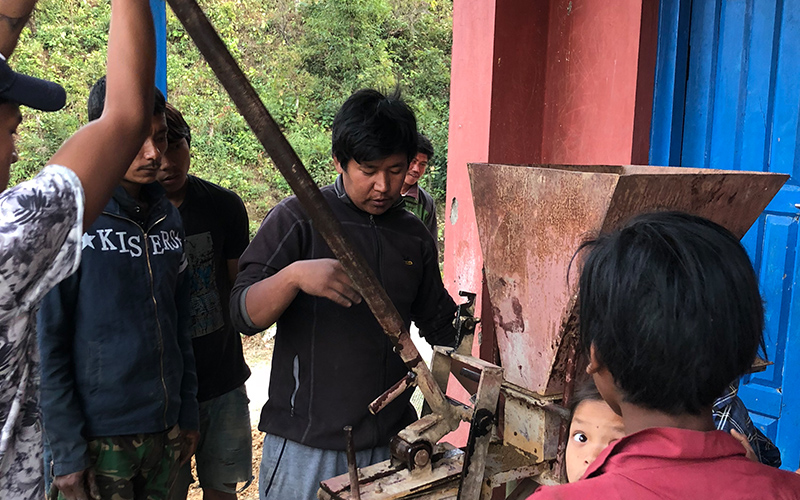 Engaging by including elements that demand full community participation and maintenance, thus evoking social engagement, involvement, and most important local appropriation.
04.

Sustainable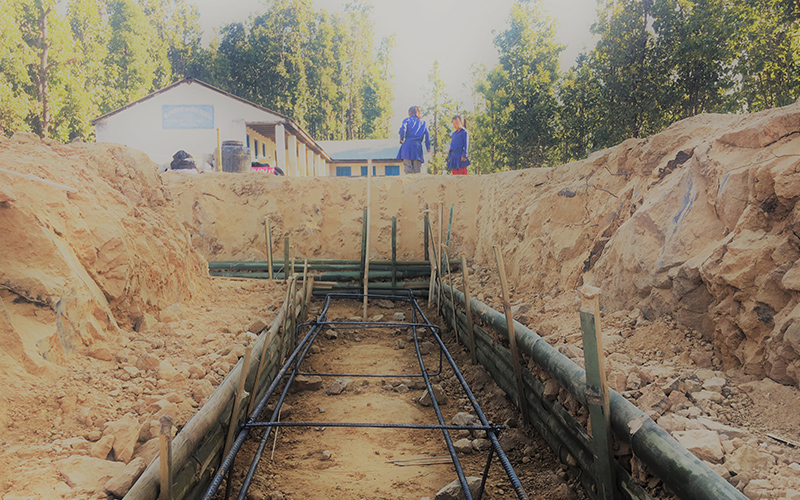 Sustainable in a vernacular way, by translating globally available knowledge to locally available resources and skills in order to achieve low-impact, low-tech and climate-adaptive buildings.
/

Projects

We currently work in Nepal, the Democratic Republic of Congo, Greenland and Peru. The 'post-school' project in Nepal will result in a new school typology of which the first prototype will be built in the spring of 2018. In DRC we are in the design stadium of what we call 'des centres généreux'. On four different locations, these centers will soon be initialized and will grow over the years through an iteration process with our research group and local partners. In Peru, in the small village of Taray in the Andes we are designing a fully sustainable village with the qualities of the ancient Andean hamlets, based on the ancestral knowledge of the Inca's. In Greenland we hope to participate in a new school building, which will teach youngsters the ancient hunting techniques.
/

People

Wild Studies is a research & design group founded by four members of the design, construction and research departments of the Faculty of Architecture of the Catholic University of Leuven (KUL). It builds on three main pillars: research, practise and education, which continuously infuse one another. All our projects are embedded in several on going educational case studies, in collaboration with international master students from the department of Interior Architecture and Architecture.

We have currently research & building projects in Nepal, Congo and Peru, and in our own architectural & research practise. For each project we collaborate with alumni of KU Leuven, Faculty of Architecture to do the follow-up, and with local architects and engineers.
/

Get inspired
Student work, fieldwork and trips,
publications and photos
Tradition is mostly a non-conscious system that organises and maintains a sense of historicity, context, coherence, hierarchy and meaning in the constant forward flow of culture"
Pallasmaa
2012